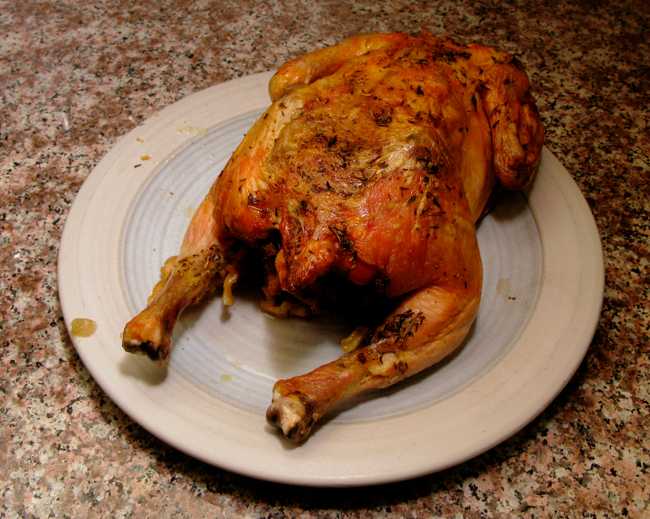 It's several recipes in one, but don't let it overwhelm you too much. This should make for several meals. This is on purpose. It's intended to give you almost a week's worth of leftovers for two people. You can eat the chicken, veggies, stuffing, and gravy one day. Next day, you can reheat the leftovers. After that, you can make sandwiches with the chicken meat. Finally, you can have the soup.
There's room to take a break. This is several hours worth of cooking time, but you don't actually spend all of that time in the kitchen. You only need to check the meat every 10-20 minutes, same with the later processes with the broth. You can leave the chicken out and make the soup later on. You can even just toss the rest of the chicken in a plastic container in the fridge and deal with the rest of it the next day.
The whole point of the recipe is to show off the chicken and to entirely use it. The skin needs to be fairly crispy and tasty. The meat needs to be tender and juicy. The stuffing needs to be flavorful. Most of this is a classic brining style, the way that Cooks Illustrated does things. I added herbs and stuff because I think everything needs to be spiced up.
Note, as usual, that some parts of this recipe are left fairly vague. This is because you may want more or less of one thing or another. It took me a few tries before I got it really good.
Finally, the quality of the chicken is important. I've had the best results with the sort of chickens one gets from a real butcher shop or a higher-end counter like Whole Foods. If the chicken has been injected or is koshered or anything like that, you shouldn't brine it. Be careful with the chicken… an astonishingly high percentage of them carry salmonella.
Ingredients
For stuffing
1cup chicken broth
1/2loaf bread, cubed, left out to air-harden
1 onion, diced
parsley (to taste)
sage (to taste)
savory (to taste)
For chicken
2 chickens
2teaspoons butter
parsley (to taste)
rosemary (to taste)
thyme (to taste)
salt (to taste)
pepper (to taste)
For roasting
1 onion, diced
carrots (however much you want)
potatoes (however many you want)
1cup chicken broth
For Gravy
1cup chicken broth
pepper (to taste)
cornstarch (as needed)
For Soup
noodles (however much you want)
carrots (however much you want)
peas (however much you want)
Preparation
First, brine the bird according to
my brining notes
and, optionally, air-dry it.
Stuffing
Mix savory, sage, and parsley with cubed bread in a bowl. Add onions.
If the chicken has giblets, boil the giblets in water instead of using broth
Melt butter into chicken broth and pour mix into bowl, toss pieces
Chicken
Pre-heat oven to 400 degrees
Stuff chicken with stuffing. Leave whatever doesn't fit in an oven-safe container and pour some water over it.
Put a half slice of bread in the opening of the chicken to press the stuffing back.
Melt butter in a small bowl and add parsley, rosemary, thyme, salt, and pepper
Put carrots, potato, and broth in the bottom of a roasting pan.
Put chicken, breast-side up in roasting pan, rub with seasoned melted butter
Put in oven at 400 for 20 minutes, then reduce to 375 until thickest part of thigh reads 175 degrees.
Rest at least 15 minutes, covered with foil, before serving. Reserve the drippings in the bottom of the pan.
Bake the extra stuffing at 400 for 20 minutes.
Gravy
Use some of the drippings and mix with 1 cup chicken broth (and wine, if you've got a bottle open)
Mix cold water with cornstarch (usually takes a few tablespoons worth) and thicken gravy with it
Soup
Toss chicken carcas once you've got most of the meat off of it in a pot with a bunch of water and chicken broth and the rest of the drippings.
Leave boiling for an hour or so
Strain the stock, Pick out the bones, save the meat
Toss the meat, plus some chunks of meat from the chicken, peas and carrots, and noodles in a pot, cook for 20 minutes